Why should I order home health?
Healthcare at home is more private and convenient. The risk of infection is minimized and home health services are usually more cost-effective than a hospital or skilled care facility stay. In addition, most patients prefer to receive care in the comfort and privacy of their own home.
Which of my patients are appropriate for home health care?
Patients who have:
Declined in their functional ability
Cognitive deficits
Multiple diagnoses that are not well managed
Multiple hospitalizations or ER visits (high risk)
New diagnoses with educational needs
A need for Physical or Occupational Therapy for rehabilitative or safety needs
A need for Speech Therapy after a stroke or other injury to the brain
Chronic Diseases that are not well controlled
Knowledge deficits in care or disease management
Skilled needs, such as:

Wound Care
Foley Catheter Care
Intravenous Therapy
Pain Management
What is the process for referring a patient to Trinity Home Health?
To refer a patient, call (501) 321-0708 (Hot Springs Office) or (479) 662-4040 (Russellville Office) to speak with one of our intake specialists, fax a verbal order to (501) 321-9567 (Hot Springs Office) or (479) 964-5653 (Russellville Office) or complete and fax in our Referral Form.
What is home health care?

Home health care provides medical services for individuals recovering from illness or injury in the comfort of their own home.  Our skilled staff work with you and your doctor to develop a comprehensive health care plan to meet your individual needs.  Our goal is to keep you out of the hospital and in your own home. Therefore, we will teach you how to recognize problems and potential side effects, and know what to do or whom to contact if they happen.  Trinity Home Health services include:
Patient Education
Urinary Catheter Changes
Skilled Nursing
Physical Therapy
Occupational Therapy
Speech Therapy
Medical Social Work
Home Health Aide Services
Infusion Therapy
Pain Management
Medication Management
Chronic Disease Management
Wound Care
Palliative Care
Balance and Gait Training
Post-operative Rehabilitation
How often will my home health care visits be?
The frequency of your visits is based off your doctors orders and the assessment of our staff.
What is the difference between home health care and hospice?
Home health care provides treatment for illness, injury or a chronic condition with the goal of regaining your independence. Home health care can also include personal care services such as bathing and dressing.
Hospice care is designed to provide comfort to individuals facing a life-limiting illness. In addition, hospice provides counseling and spiritual services to the patient and their loved ones.
My doctor is ordering home health care for me, can I request Trinity Home Health by name?
Yes! According to federal law, patients have the freedom to choose their health care provider under Medicare.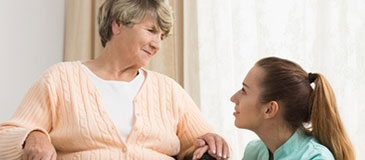 "The best care you'll ever get.  Very courteous and kind."
– D. Barker, Russellville
"We have always been very satisfied with Trinity Home Health. The staff makes me feel important, they never act like I am a bother to them. From the nursing staff to the office staff, everyone is so caring and makes me feel comfortable."
– R. F., Hot Springs, AR
"I have had other home health agencies in the past and none compare to the care that I have received from Trinity. The nurses are wonderful and my physical therapist, Jennifer Springer, is the best therapist I have ever had…you just can't beat her!"
– R. T., Hot Springs, AR
"Trinity Home Health does a great job.  The nurses and therapist they send out are top-notch.   I am really happy with the care I receive from them. They are very professional and genuinely concerned about me."
– T. Ludwig, Hot Springs